Capacity development and Transition Planning Process
A participatory capacity development planning process involving key stakeholders and partners is facilitated to support countries where UNDP is acting as interim Principal Recipient (PR) for Global Fund grants, full details of the process can be found here. The same process has been adapted to support national disease responses where UNDP is not acting as interim PR. The main steps include;
To provide remote and in-country advice and support together with relevant knowledge resources and tools to support the capacity development assessment, planning and implementation processes.
To support the scoping of the capacity development planning process and adapting, developing and utilizing capacity development templates and tools.
To conduct a desk review of existing assessments, plans and evaluations, including previous capacity development work, audit reports, Local Fund Agent (LFA) assessments, Technical Review Panel (TRP) reviews etc.
To facilitate a rapid participatory capacity development scoping, assessment and planning process with national stakeholders and partners.
To prepare a draft Capacity Development Plan with Action Plan and budget based on the outputs of the participatory planning process.
To facilitate a review of the draft Capacity Development Plan with national stakeholders and partners to finalize; i) the capacity development objectives; ii) the priority actions; iii) who will be responsible; iv) the implementation work plan; v) the budget and vi) the monitoring arrangements of the plan.
To gain any approvals required for the Capacity Development Plan and budget, have a formal launch and commence implementation.
In the countries where there is to be a transition from UNDP as the interim PR to national entities, transition activities are added to the plan linked to the achievement of the capacity development objectives. In addition, a clear handover plan of roles and responsibilities on the achievement of measurable milestones helps to ensure continuation of life saving services. To help mitigate the risks a number of countries elect for a phased transition, starting with areas such as programming, M&E and supply chain management, testing financial systems with UNDP providing a backup system and finally deciding on the options for procurement. A Capacity Development and Transition Framework Tool can be accessed here. 
The diagram below illustrates the capacity development and transition planning process: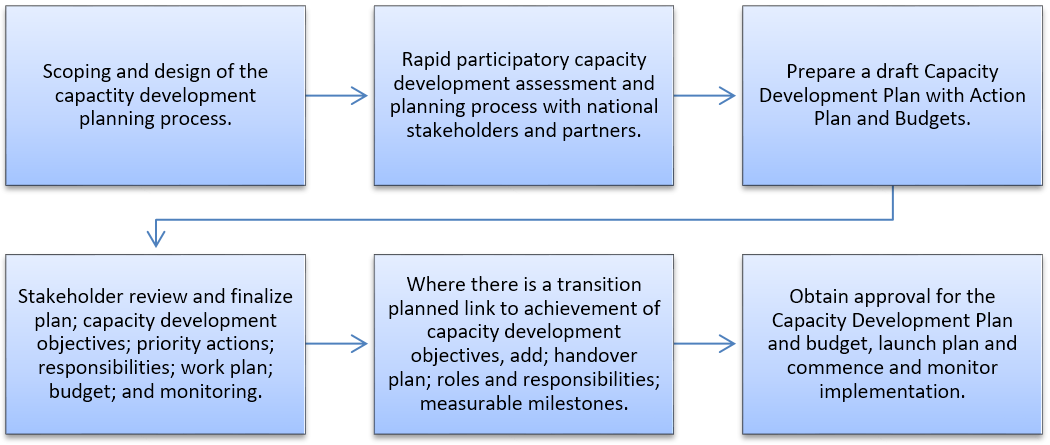 Loading resources